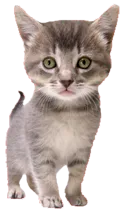 Our receptionists and team will attempt to accommodate all requests to the best of our ability. Emergencies are accepted anytime our clinic is open. If you feel you have an emergency with your pet, please call us before coming in so that a staff member can advise you on your particular emergency, and we can be ready to adjust as needed.
Types of Animals Seen
At PVVH we are a diversified-species practice. The list below outlines a few of the species we work on:
Dogs
Cats
Rabbits
Pocket Pets
Reptiles
Birds
Dairy and Beef Cattle
Horses
Sheep and Goats
Llamas and Alpacas
Pigs
Bison
Deer
Zoo animals
Call us for more information.
Payments
Prairie Vista Vet Hospital & Supply accepts payment via cash, check, MasterCard, or Visa. So that we can continue to provide you high quality service utilizing the best medical technologies, we request that payment be made at the time services are rendered.
We provide estimates for all surgeries and hospitalizations. If you have not received an estimate, you are welcome to request one at any time for your expected charges.